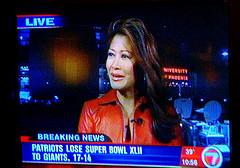 This year's Super Bowl is being run by NBC which has been planning over 18 hours of TV coverage from Indianapolis. It will do this through: Bravo, E!, NBC, NBC Sports (formerly Versus), Style, and The Weather Channel.
NBC will be offering various highlights throughout the coverage. For example, the first episode of "Costas Tonight" will be broadcast by Bob Costas who will be hosting football legend Dan Marino and NFL Commissioner Roger Goodell, aired on NBC Sports, marking the first of a bunch of interview shows by Football Night.
After the game, "Late Night with Jimmy Fallon" will be broadcast live, and advance tickets are already sold out. The "Today" show will be broadcast, with Ann Curry and Al Rocker reporting live from Pan American Plaza. Others covering the event include Savannah Guthrie and Natalie Morales.