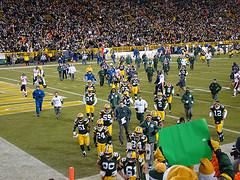 It seems like Green Bay Packer fans are really committed to their team. Wisconsin is the smallest city that hosts an NFL franchise but the loyalty fans have to the team is quite the opposite of small. Even religious church-goers cannot hide their dedication to their football team. They come to church indeed, but not without being clad in Packer gear – and that's at least half of the congregants!
Even though it's true the Green Bay Packers are definitely a great team, they did hit a rough patch and even then, the fans remained loyal. And it's not hard to see why.
It's very difficult to get a Green Bay Packers season ticket; people are on the waiting list for years – sometimes over 100 years – and their greatest hope is that at least their kids will maybe be able to get the ticket if their wait is "a mere" 40 years away. But one man – Jim Becker – was a bit luckier than that. He only found out recently though just how lucky he was.
So what was Becker's story? He didn't have much money at the time, but he was able to get a season ticket. Problem was, it was $60 a year. He worked out though, that giving a pint of blood four times a year, would cover it, since they paid between $12-$15 per pint. So that's what he did. Every year he gave his four pints of blood quarterly and apart from the 11 family baptisms (he has 11 children), he never missed a game. During this time he saw 212 games and donated 192 pints of blood; he has records of them all.
That's very nice. But what makes the story really incredible is that he was thereafter diagnosed with a condition called hemochromatosis, which his father had passed away from. What this means is that he had too much iron in his blood and the only way to cure him would be to remove pints of blood from him! The irony was, they told him that had he not been donating all those pints of blood prior to the discovery of his condition, there wouldn't even be a solution! So all the good he was doing for those people requiring blood, apart from getting him a much sought-after Green Bay Packers season ticket, also saved his life! This thus proves "buying Packers season tickets doesn't just make your life; sometimes, it saves it"; it pays to be a diehard Packers fan."