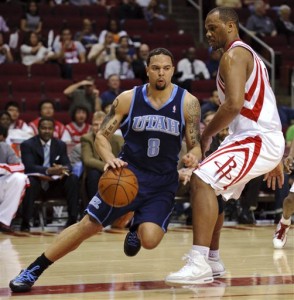 The Houston Rockets won a tough battle against the Utah Jazz on Sunday, coming out victorious with a close score of 110-108. With what was their 11th win of the last 14 days, Houston closed on the last playoff spot in the Western Conference.
Kyle Lowry scored a triple double of 28 points, had 11 rebounds and 10 assists for the winning team, all while holding off the Jazz during their late comeback.
"Right now he's playing great, not only from a statistical standpoint, but from a leader standpoint," teammate Chuck Hayes said of Lowry. "He's our floor general."
Meanwhile, Kevin Martin scored an impressive 34 points, making all of his 18 free-throw attempts.
…And in Hockey
Corey Perry scored his second consecutive game-winning goal, aiding the Anaheim Ducks in their 5-4 victory over the Calgary Flames during overtime. The win lifted the Ducks into playoff position. Now, they are tied with the Dallas Stars for the 8th spot.
"You dream of these kinds of games0 playoff atmosphere type games," Perry said after the game. "It doesn't get any better than this."
"He's an unbelievable hockey player having an MVP year," explained a teammate. "He's hungry every game. It's great to see when young guys can do that."