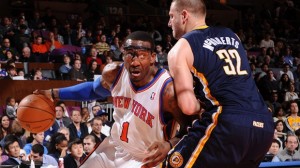 The Indiana Pacers ended the game against the New York Knicks with a stunning score of 106-93, putting an end to their six-game losing streak despite the absence of leading scorer Danny Granger.
The Knicks were expecting another victory, especially with the return of Chauncey Billups, but Indiana managed to climb to a twenty-point lead in the third quarter. Tyler Hansbrough scored a career-high 29 points, while Granger's replacement Dahntay Jones contributed 18 as well.
"Coach didn't let me play in the past, and I don't know why," Hansbrough told reporters after the game. "I try to come in the gym and try to get better and prove a point."
On the Knicks, Stoudemire had 28 points, and Carmelo Anthony added 25 of his own. Billups was rusty after missing six games, making only four of fourteen shots for nine points. He also missed all of his three-pointer shots.
Meanwhile…
The Lakers leaned on Kobe Bryant, who, despite his ankle sprain, led his team to a 96-91 victory over the Dallas Mavericks. During the third quarter of the game, in which the Western Conference's top teams battled for the top spot, Bryant landed badly on his left ankle and left the court. He returned in the following quarter to hit a fadeaway jumper as well as two free throws.
"I thought I was done, like done," he said after the game. "I was just praying that when I stood up, my foot was lined up straight. I thought I dislocated it." "Even though it looks horrible, I can still push off on it," he added.
Lakers coach Phil Jackson said "We'll just have to watch it the next few days."
Andrew Bynum, the team's center, contributed 22 points and 15 rebounds during the game.
"We knew that Drew was going to be effective tonight," said Jackson. "They have a big lineup, but he has shown before that he's a very effective player against the combination of what they put out there on the floor."