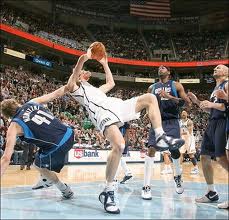 The Oklahoma City Thunder closed on their spot in the playoffs with their 99-90 win over the Portland Trail Blazers on Sunday.
During the last quarter, the Thunder was led by Russell Westbrook in a 17-8 run. Westbrook scored 11 of his 28 points during that quarter.
"Both teams really played as hard as they can play," said Scott Brooks, the Thunder coach, "fighting through every possession."
The Thunder's defense was also strong, with Kendrick Perkins blocking a shot by Gerald Wallace and Serge Ibaka preventing another by Andre Miller. On offense, Kevin Durant scored 21, and Ibaka added 18.
"There was a time a few years back that if Kevin goes 0-for-8, there's a good chance that we don't win this game," Brooks said after the game. "Guys have to step up. There's always going to be a different guy."
On the Trailblazers, Wallace scored 40 points, but the only other player to reach a double-digit number was LaMarcus Aldridge with 20 points. After the game, Wallace said "It wasn't enough. I'd rather take the win than take the points."
The Utah Jazz Fall Away from the Playoffs
Meanwhile, the Dallas Mavericks ended a game with their third consecutive win following a strong defensive effort against the Utah Jazz. The final score was 94-77.
"I thought it was a great game," Dallas's coach Rick Carlisle said. "You play a team that's desperate and they've been losing close games. They fought and they were physical and they were clawing. We just kept playing. This is what we need."
Al Jefferson of the Jazz said "We just made too many mistakes. I think we got away from what we was doing. Kind of let other things get us out of our game, instead of staying focused and doing what we was doing the first three quarters."
The loss is the fifth consecutive for the Jazz, and their playoff chances are slowly diminishing.