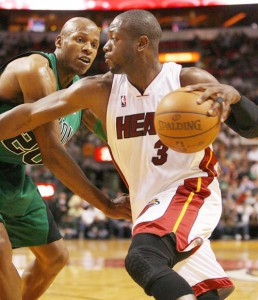 In a much-anticipated showdown, the Miami Heat, with the help of Dwayne Wade, came out with a remarkable 99-90 win over the Boston Celtics.
Wade had the game high of an incredible 38 points, 23 of which he scored in the first half. LeBron James also contributed 22. After the game, Wade explained:
"Today our shot-makers made shots and that was the story. These guys expect this from me. I wasn't giving it to them in the regular season versus them and I wanted to come out and be a leader." He continued, stating that Boston "is never going to quit, and we look forward to the challenge."
Boston's Ray Allen certainly put up a fight, scoring 25 points, which include five three-pointers.
Later….
The Dallas Mavericks squeaked by with a win over the Lakers, overcoming a 16-point deficit and a combative Kobe Bryant in the first game of round 2.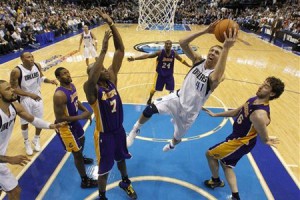 The game ended at a 96-94 score. Mavericks Dirk Nowitzki ended with the team high of 28 points, while Bryant missed what would have been the game-winning three-pointer just as time ran out. Still, Bryant ended the game with 36 points.
"Kobe was unbelievable. He was on fire from everywhere and we did a good job of hanging in there and down the stretch we executed really well," said Nowitzki after the game. He also had 14 rebounds. Jason Terry has 15 and Tyson Chandler added 11.
On the Lakers, Pau Gasol finished with 15 points, 11 rebounds, and Lamar Odom contributed 15 and 12 of his own.