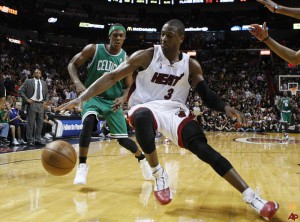 This week, Boston's Rajon Rondo led his team to a 97-81 win over the Miami Heat despite a dislocated left elbow. The Celtic's win has lowered Miami's lead to 2-1 in their Eastern Conference semi-final.
Trailing by two points at halftime, the Celtics started the third quarter with a 16-4 run, thereby controlling the rest of the game. Rondo made his first basket during that run, only to fall with the Heat's Dwayne Wade and dislocate his elbow. Unable to move his arm, Rondo was led off the court only to come back on in the fourth quarter to finish with six points and eleven assists.
"My adrenaline was too high. I fed off the crowd energy," said Rondo. "I thought I could try to change the game's momentum by getting to the ball defensively. I only need two legs for that," he continued. "I'm glad we have a day off. I'll get a lot of treatment and hopefully I'll be ready to play."
Kevin Garnett was the Celtics lead scorer, ending the game with 28 points and 18 rebounds, while Paul Pierce contributed 27 of his own.
Wade led Miami with 23 points, and LeBron added 15.
Of Boston, Wade said, "This is a championship team and they played at a championship level. We will come back Monday and try to learn from our mistakes and not let them outplay us. For most of the game, they did a good job of outplaying us, and that can't happen."