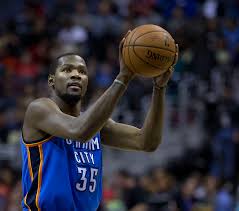 Talk about a team player.
After an incredible season, 2017 NBA Finals MVP Kevin Durant opted out of his contract prior to the opening of the NBA free agency period, but not for the reason you may have expected. In a surprising move, Durant renegotiated a 2-year contract at a much lower rate in order to help his team retain and gain other major players for the upcoming season. According to Chris Haynes of ESPN, Durant's new agreement with the Golden State Warriors is a $53 million, two-year deal with a player option for year 2, which, as pointed out by Sam Amick of USA Today is basically a $10 million pay cut.
The Warriors are using his sacrifice wisely, having already signed Stephen Curry, Shaun Livingston, David West and Andre Iguodala. Iguodala was rumored as a flight risk, but the Warriors reeled him in with a $48 million, 3-year offer. According to Amick, Durant was willing to take an even larger cut to help the Warriors snag Rudy Gay, in the event that Iguodala did leave the Bay Area.
We'll see what next year brings, but Durant's sacrifice has set the Warriors up for yet another great season.