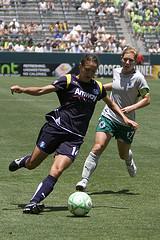 There is some bad news on the field for Women's Professional Soccer (WPS). Because one out of the six teams got dismantled from the league, the WPS may lose its professional status as America's sport's governing body – US Soccer – requires at least eight teams to comprise a professional league. Apparently though, the women's soccer teams are not going to go down without a fight after all their efforts since their inception three years ago when they began with seven teams.
MagicJack, FL
The problem is being blamed on the MagicJack team, from Florida. WPS asked for a one-year waiver (which it received) from the board of directors last year as it only had six teams. But now that this figure has dropped to five for 2012, a waiver extension has been requested so that it can go through the season including the London Olympics and thereafter hopefully attract new investors before 2013.
According to the league's commission, Jennifer O'Sullivan, the league's main aim is to retain their Division 1 status, following the amazing 2011 season. Time will tell is the WPS can be saved.