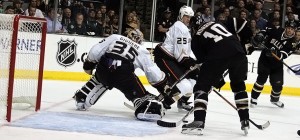 In an interesting twist, the Nicks closed a spot in the playoffs with their 123-107 win over the Cleveland Cavaliers yesterday. This is their first post-season opportunity in seven years.
Amare Stoudemire scored 28, and Carmelo Anthony added 25. The win, which was their third in a row, as well as Charlotte's loss to Washington, was enough to boost New York up into the playoffs.
"I was strong enough to come here when the situation wasn't looking so great," Stoudemire said. "I took it as a challenge upon myself and as a team to speak so boldly at the start of the year (that) the Knicks are back."
"We are now in a position to be in the playoffs, which was the goal," he added.
The Dallas Stars Shine Against Anaheim
Meanwhile, in the NHL, the Dallas Stars ended their six-game losing streak with their 4-3 victory on the road over the Anaheim Ducks, wedging open a window of playoff opportunity.
Mike Ribeiro made two goals, his second granting a 4-2 lead fifteen minutes in to the second period. With two minutes left, Anaheim's Teemu Selanne scored a goal, but it was erased for goaltender interference. Then, the team's Bobby Ryan scored again, but it was also wiped off because of a hand pass from Corey Perry.
"I grabbed it with my hand but I didn't see if anyone touched it after that," Perry said. "It's a tough one to swallow. Those are the bounced we have not gotten in the last two games."
Dallas's Ribeiro said "That was a good year for us. We still believe. We're going to push until the end and see what happens."