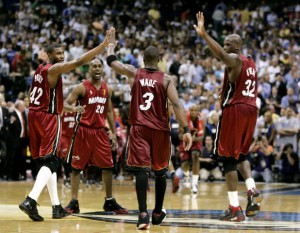 The Miami Heat scorched the Boston Celtics with a 100-77 win on Sunday, securing the Eastern Conference's second seed.
The Heat's suffocating defensive effort kept Boston at 37 second-half points. LeBron James scored the game-high 27 points and seven assists, while Dwayne Wade added 14 of his own.
After the game, James told reporters: "They are a really good team, we came out with a lot of energy and effort and it was really good to get a win. We know it starts defensively. Anytime someone was beaten we stepped over and continued to fly around. When we defend at a high level we're tough to beat."
On the Celtics, Paul Pierce had the team-high 24 points, while Kevin Garnett contributed 21. The Celtics have now lost 10 of their last 19 games.
Meanwhile, The Blackhawks Make the Playoffs
The Chicago Blackhawks may have lost their final game of the regular NHL season, but they have moved up into the playoffs thanks to a Dallas Stars loss.

Losing 4-3 to the Detroit Red Wings, Chicago fans were convinced they'd lost the
eighth and final playoff spot of the Western Conference, until the ninth-placed Dallas Stars fell with a 5-3 loss to the Minnesota Wild. Now, the Blackhawks will battle the top-seed Vancouver Canucks in the first round of the playoffs.
"I sat there and watched from start to finish, it was pretty exciting," Patrick Sharp of the Blackhawks said of the Stars game. "We weren't in the best of moods after today's game against the Wings but we're happy we're going to the playoffs. We feel like we're prepared."
Dallas, who has not reached the playoffs since 2007, won the last four games, only to fail during the last.
"It was in our control, and we didn't win," said Brad Richards, the Dallas center. "We put too much pressure on ourselves to be perfect at the end, with no room for error."