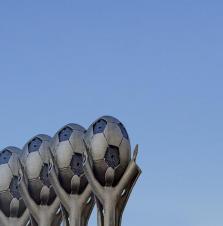 As the Super Bowl looms ahead, the oldest rivalry in the NFL is rekindled with the Chicago Bears set to battle Green Bay for a trip to the Super Bowl. The teams have only competed against each other in the playoffs once before- in 1941.
"It's a big deal, we have a lot of history with them," said Brian Urlacher, Bears linebacker. "We don't like them, they don't like us." The first meeting between the teams, in 1921, resulted in a fist fight. The Bears coach Lovie Smith said "It just doesn't get any better the way I see it then for the NFC Championship to come down to the Packers coming down on our turf. The Packers and Bears to finish it up. That's how it should be."
Meanwhile, in the AFC, the New York Jets are headed to battle Pittsburgh for the championship after an incredible (and rather shocking) victory over the New England Patriots. The Jets played a superior defensive game, playing back and covering receivers, forcing Brady into corners and sacking him five times.
Rex Ryan assessed the game results and said "I was dead wrong. I thought it would come down to me and Belichick and thank goodness it never did because he won that battle like he always does. It came down to our players and it came down to the assistant coaches and we won that battle. You can't just give them one thing all the time. Mix your coverages, mix your blitzes, mix your pressures. Against these great quarterbacks, that's what you have to do… against Peyton Manning at Indy and now Tom Brady at New England. Mission impossible. Now on to round three of mission impossible." And indeed, Tom Brady and Wes Welker both praised Ryan and the Jets for their mixed tactics after the game. Now, the Jets are readying themselves for another tough battle against the Steelers next week.