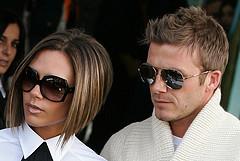 Beckham Joins LA Galaxy
Next month the Philippine Azkals will be playing against LA Galaxy. The Galaxy is one of America's Major League Soccer (MLS) teams. The game will take place at the Rizal Memorial Stadium and will have celebrity David Beckham battling for The Galaxy to win. As well as Beckham, Landon Donovan and Robby Keane – also top soccer players – will be joining the team for the game. But it is Beckham who has the highest profile, both on and off the field.
Beckham in the Limelight
It seems that if it's not Beckham himself, then his wife and mother of his four children Victoria, is somehow all too often in the press. Just last week it was reported that Victoria tweeted that a UFO hovered over her LA home. Then, when it came to his third kid Cruz, the media picked up that the six-year-old had sustained a small injury while playing the game that made his dad famous (and rich) and it was David to the rescue.
David the Designer?
But now David Beckham might be moving into a totally different area than what he's been doing with a ball in the hope of even more success. He has been asked by Adidas Originals to work with them, which was said to be "unexpected" but "welcome." According to an article in Sky News, it's something he's "become interested in over the last five years." He added that his "career has been solely about playing and always will be until I stop but I'm lucky enough to have sponsors like Adidas and other things I've ventured into with the fashion side."
Busy Beckham
Clearly Beckham is extremely busy. Between his sincere commitments to his family, his soccer-playing, potentially having to protect his wife from UFOs and now his move into the world of fashion, it does not look like David Beckham will be complaining of having too much free time on his hands any time soon.